Certainly, more than once when you wrote with someone, regardless of whether it was someone from your family, a friend, or a newly met person. There has been a situation where the other person deleted their message before you could read it. Of course, there are cases where we accidentally send a message to a person to whom it was not planned, and usually, we inform about it that it was a mistake. It has probably happened to you several times and each time you wonder what could be hiding under that deleted message. We are not always able to find out what the other person wanted to tell us and then we analyze what it could have been. Fortunately, if you are using WhatsApp, we have good news for you because now you can check what was hidden under the deleted messages without any guesswork. It is very easy to do.
When someone clears a message on WhatsApp, everyone in chat will see "This message was deleted." One cannot help but be curious about what the content of this message was.
To be able to read these deleted messages, you only need an application that records or creates a log of all notifications and incoming messages. Here's one that's designed with this in mind: WhatsDelete
Of course, there are other apps that do this, but WhatsDelete is our favorite. They all do exactly the same, but sometimes the layout is slightly different. Regardless of whether the messages have been deleted or not, this app will save every notification received. However, to do this, you will have to grant it access to your notifications.

This access will replace other applications so that it can collect notification data. The first time you open one of the two apps, you'll be asked to grant them permission.
There is probably no application that is easier to use than WhatsDelete. It is very easy to use and does not require a complicated process. Below we present the entire process of how to configure WhatsApp with the application.
Read more: All available functions on WhatsApp
How to read deleted WhatsApp messages?
1.  At first, open the WhatsDelete app on your mobile phone.                        
 

2. After installing the application, a tutorial will appear asking for permission to the notification Click Allow.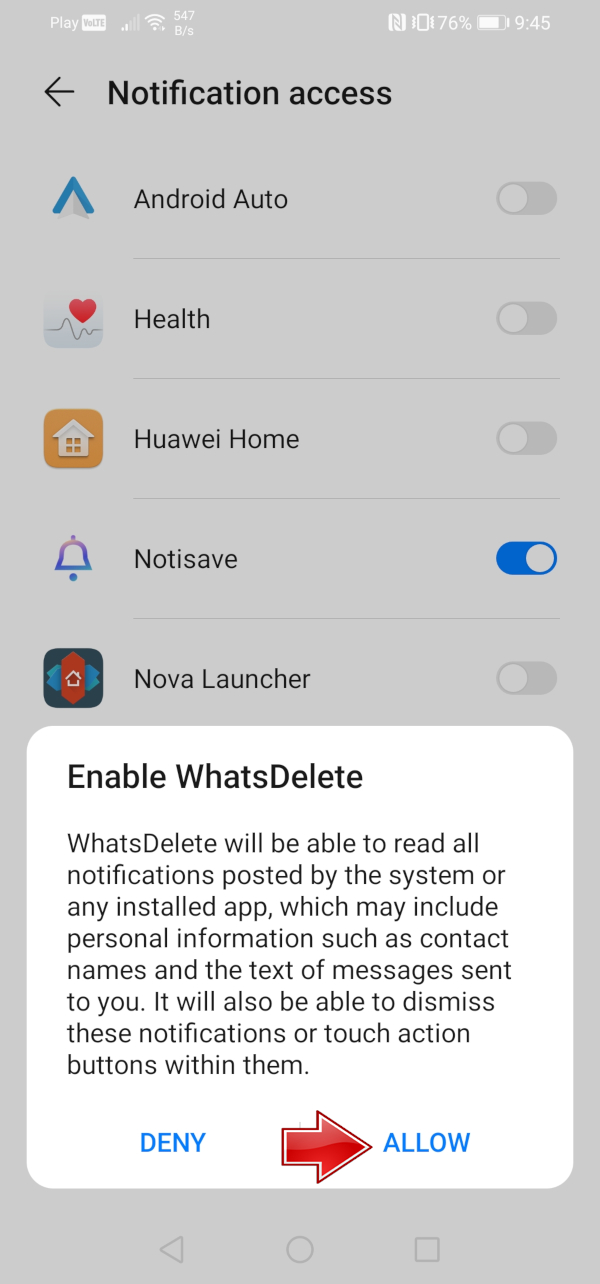 3. Now, choose the WhatsDelete app.




4. Going to configuration, select the applications you want to save notifications. In this case, select WhatsApp.


5. After agreeing to access the files, you should automatically move to the application selection and configuration process. If the tutorial did not show up, you can find these settings yourself at any time. Click on the three bars in the upper left corner.   
         

6. Scroll down and find "Configuration Settings" and "App List".
7. That's all it really is. Once everything is set up. All we have to do is get a message from someone and after he removes it, click on the chat.




8. After clicking, we can see what content has been deleted.   


As you have noticed, it literally took less than 5 minutes to set up the entire application from WhatsApp. No more wondering what was under the deleted message.

 
          Follow us