All the time it seems to us that nothing will surprise us anymore when it comes to technological progress. It turns out that new inventions and applications are created every day that can make our lives easier. Undoubtedly, one of them is 'Look to Speak', thanks to which you can use your eyesight to control your smartphone. So how does the 'Look to Speak' app work?


It should not surprise us that nowadays it will be possible to control your smartphone with your eyesight. Since we have had the option of facial or fingerprint recognition available for several years, it is time for eye control. It is undoubtedly a breakthrough solution for people who have lost the ability to speak. Look to Speak is very easy to use and does not require a complicated installation process.
What is Look to Speak?
The Look to Speak feature, now available on the Google Play Store, enables you to communicate by simply looking at words and phrases displayed on the screen.
The app uses the front camera to track eye movement. Displays ready phrases divided into two vertical lists. Look beyond the screen to the left or right will select one from the list; to deselect or snooze, just look at the screen.
After each selection, the number of words and phrases is narrowed, and the phone will read aloud the rest of them. There are also limited to ready-made phrases on Google. You can add your own by tapping the menu icon in the upper right corner.
How the Look to Speak application was created?
Look To Speak was created with the help of artist Sarah Ezekiel. Diagnosed with motor neuron disease in 2020, she is one of the millions of people living with speech and motor disorders.
Ezekiel worked with a speech therapist with Google, Richard Cave, to find ways in which machine learning could help people with similar disabilities. Cave specializes in working with non-verbal people who need help in communication.
"It's more than a job for me, it's a passion," he said on a Google blog. "Every day I try to help people find easier and more accessible ways to express their daily needs, opinions, feelings, and identity."
The hope is to help people with temporary or permanent disabilities situational - especially in situations where other, more burdensome communication devices can not work. Think outside, in the shower, or in an emergency, said Cave.
"Now conversations can more easily happen where before there might have been silence, and I'm excited to hear some of them."
Getting started with Look to Speak
How to add new Phrases? 
1. At first, open the Look to Speak app.
              2. Now, in the upper left corner, press the three bars.
3. Select Edit phrasebook from the menu.
4. Now click Add phrase and you can do that for the left and right sides.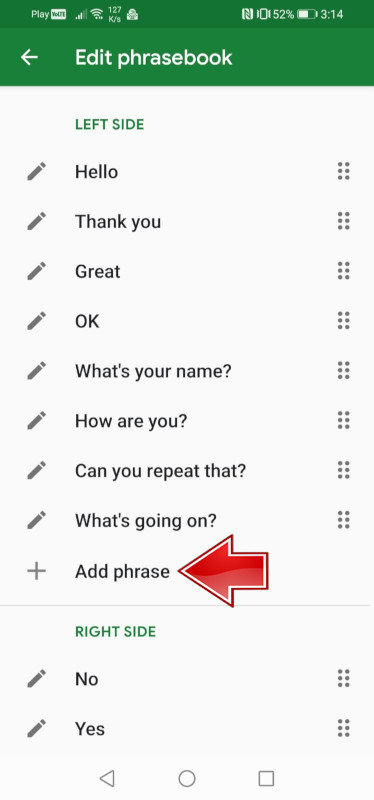 5. Enter your text and then click Save.
6. Now you can see your phrase has added itself to the phrasebook.
7. As you can see, the phrase has been added to the list and you can now use it with your eyesight.
That's it! You have successfully added a new phrase to your phrasebook. 
          Follow us
Added on by Marcinm - Viewed 142 times.