Epic Games and OnePlus phones have teamed up to create a new exclusive emote with an Indian flair. Stay tuned and this guide will show you how.
What is the Bangra Boogie Emote in Fortnite?
Bhangra Boogie is an eye-catching new emote created by Epic Games and sponsored by OnePlus, whose phones can be the perfect choice for mobile gamers. To celebrate its success in India, Bhangra Boogie is strongly inspired by Punjabi culture, where Bhangra is traditionally danced at festive events, wearing colorful costumes. When a player first triggers an emote, they will notice a quick and catchy beat mostly performed by the traditional Dhol drum, which is usually played in conjunction with a live bhangram.
Bhangra itself is mainly about holding your hands up high and spreading them out with your hands open, not closed. Closing your hands may be a sign of anger, but Bhangra is always done in a good mood. When dancing, it is also important to jump to the beat and not stand on one leg for too long.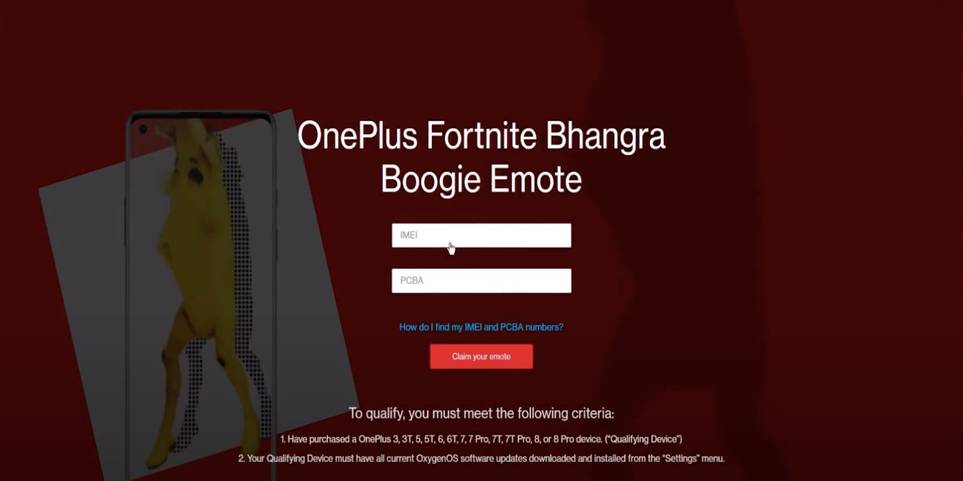 How to get the Bhangra Boogie Emote in Fortnite?
To receive the exclusive Bhangra Boogie emote, players will need to redeem a special code from OnePlus which is only given to verified owners of OnePlus 3 or later. Unfortunately, Bhangra Boogie is not yet available in the Item Shop, nor can it be unlocked in any other in-game challenges.
Firstly, you need to go to the

OnePlus

website and scroll down to find and click on the yellow banana performing the Bhangra Boogie.
Then, scroll down a little to click,

"Claim Your Emote"

and then either create an OnePlus account or login with Google or Facebook.
After logging in, you will be asked to enter two different numbers/codes. The upper code is the

IMEI number

and the lower code is the PCBA number. These codes are only used to confirm that you are the owner of

OnePlus 3

or later.
These codes are just to confirm that you are the owner of an OnePlus 3 or later. To find and enter your IMEI number, dial

"*#06#"

. Similarly, you can find the PCBA number by dialing

"*#888#"

.
Copy this code and then select the

"Use Now"

prompt. You should then be redirected to the fulfillment section of the

Epic Games

website.
First, make sure you are logged into the

Epic Games

account that you wish to receive the Emote on and then paste your code in the text field then redeem and activate. It should then be waiting for you the next time you launch up Fortnite.
Added on by krystiank - Viewed 112 times.