FRP lock could be a blessing in disguise if someone tries to root your Android device, but it can cause trouble for you too. If you have forgotten your Google account credentials, FRP will be triggered when factory resetting your phone. You will need to bypass Google account that you have forgotten to access your device.
This situation requires you to find a reliable Android lock screen removal tool that can bypass FRP on your device without damaging it.
Dr.Fone – Screen Unlock (Android) is your solution to get out of this situation.
Part 1: Why Do You Need Dr.Fone – Screen Unlock (Android) for Bypassing FRP
Bypassing the FRP lock on your Samsung device can be troublesome and complex. You are going to need a tool that not only unlocks your device but also doesn't do any damage to it. Dr.Fone – Screen Unlock (Android) is a tested and reliable tool that can turn the complex process of FRP bypass into straightforward and easy-to-understand steps. It can unlock FRP locks on Samsung devices with Android OS 6 or higher.
Apart from FRP bypass, it can unlock PIN, pattern locks, biometric locks, and password locks. If the Android device you use is Samsung or LG, bypassing the screen lock will not result in data loss. It offers support for a wide range of devices from all major Android brands. The interface and procedures to bypass screen locks are simple and easily navigable.
Part 2: How to Bypass FRP using Dr.Fone – Screen Unlock (Android)
You need the Dr.Fone app, a USB cable, powerful internet, and over 50% Samsung device battery to start the FRP bypass process. Once you have gathered the necessary components, follow these simplified steps to complete bypassing the FRP lock on your Samsung device:
Step 1: The process will start when you select "Screen Unlock" on the Dr.Fone app. There choose "Unlock Android Screen/FRP," which will lead you to the screen with the options of bypassing the screen lock or FRP lock. You will need to proceed with the "Remove Google FRP Lock" option to select the Android OS of your Samsung device on the next screen.
Step 2: As you have the latest Samsung device, select "Android OS 11/12," connect your FRP locked Samsung device to your system and check the notification after pressing "Start."
Step 3: Notification will also be sent on your computer, where you need to hit the "Confirmed!" button, and on your device, you have to press "View." It will take you to Samsung Galaxy Store, and here search for "Alliance Shied" that you need to install on your FRP-locked phone.
Step 4: Before the installation process can start, you are required to log in to the Samsung Galaxy store. Use your old login if you have one, or create a new one and use it to log in to the store. Start the installation process of Alliance Shield and wait for it to finish.
Step 5: You need to log in to Alliance Shield to continue with the bypassing process. For that, create an account at alliancex.org and use it to log in to Alliance Shield.
Step 6: The first step you need to do in the Alliance Shield app is to give your device a name. Afterward, on the next screen, turn on the "Device Admin" option, and press "Next," which will open a confirmation window. You must tap "Activate" to activate the Device Admin and close the confirmation window.
Step 7: Knox is the next option you need to enable on the next screen. After enabling it, press "Next" on the confirmation window to appear and tap "Agree" to complete this step.
Step 8: After enabling the Knox, you must tap on the "Next" option. The configuration process of the app can now be completed by selecting "Finish" on the next screen. You will see the main interface of the app with different options. Among these, select "App Manager."
Step 9: To complete this step, you will need to use the search bar in the app. Search for "Service Mode," and you need to access the "Activities" tab. When in "Service Mode", find "com.sec.android.app.modemui.activities.USB Settings" and tap on it.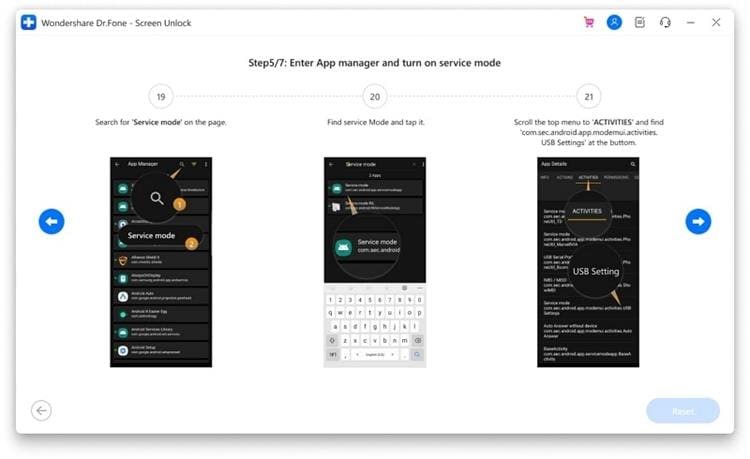 Step 10: Tapping it will result in a pop-up menu where you need to select "Open," enable the "MTP + ADB" option and close it. That will result in a new pop-up window where you need to enable USB Debugging by checking "Always Allow" and then closing the window by clicking "Allow."
Step 11: Disconnect your Samsung device from the system and connect it again. Now you need to restart your device and access the factory reset settings of your FRP-locked Samsung device.
Step 12: All you need to do is confirm the reset process, and once your Samsung device has been factory reset, the bypass FRP process is also completed. You can now use your FRP-unlocked device by adding your new Google account.
Part 3: The Other Tools and Utilities Offered by Dr.Fone
Besides offering you services related to bypassing screen locks on smartphones, Dr.Fone contains many more helpful features and utility tools. It is a complete mobile toolbox as it can solve the majority of problems related to smartphones. Its significant features have been explained below for your knowledge:
WhatsApp Transfer:

Dr.Fone allows you to transfer, back up, and restore all of your WhatsApp data. It can transfer all types of WhatsApp data across platforms. You can create WhatsApp backups using it on your computer and restore them later to any smartphone, Android, or iOS. Aside from WhatsApp, it also supports other communication apps like WhatsApp Business, GB WhatsApp, WeChat, Kik, etc.

Phone Transfer:

If you have recently switched devices, you can use Dr.Fone to transfer all your phone data from one device to another. It allows you to transfer data on different platforms. You can transfer over 15 types of data using it. It also supports both the latest Android 13 and iOS 16. The process of data transfer is straightforward and fast.

Data Recovery:

When you lose data due to accidental deleting or some other reason, don't worry because Dr.Fone has got you covered. It can recover contacts, messages, call history, WhatsApp data, and multimedia. You can also recover data from your SD cards when using Dr.Fone. The recovery process is fast and simple and has support for over 6000 devices.

System Repair:

There can be many bugs that can affect your smartphone's performance and operating system. Dr.Fone can repair most of these buggy situations and allows you to use your smartphone without any worries. In Android, it can fix issues like the black screen of death, Play Store not working, apps crashing, and being stuck in a boot loop. Regarding iOS, it can repair issues like the white screen of death, black screen, frozen iPhone, iPhone keeps restarting, and iPhone being stuck in Recovery mode.

Phone Manager:

The Phone Manager feature allows you to manage your devices on your computer. Regarding Android, you can manage up to 5 devices, transfer data between computer and phone, manage the data, delete unnecessary data and do much more. As an iOS user, you can transfer data between different iOS devices without needing iTunes through this tool. You can also move data between iOS devices and your computer.
The Bottom Line
FRP lock will trouble you in your life as people are generally forgetful, and remembering details like Google accounts can be hard. While using a new device, you only need to log into the Google account once and would require it again when factory resetting the device, which you might not remember.
If you face an FRP lock on your Samsung device, you can try the Dr.Fone – Screen Unlock (Android) tool because it can bypass FRP lock for all Android versions. Aside from bypassing the FRP lock, Dr.Fone can offer you a wide range of benefits, as described above.

Added on by sebastian - Viewed 3628 times.
NEW:
POPULAR: